Oil PaintingKathleen Robison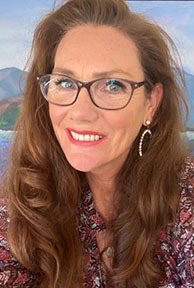 "I paint to express and depict the beauty and joy I see in everyday life."
Kathleen paints original impressionist oil paintings of California landscapes and seascapes on canvas framed with wood frames. She also paints figures on the beach and in the landscape.
Kathleen's subject matter is inspired by her plein air painting on location at southern California beaches. She often uses the small plein air studies to create a large painting in the studio.
She tries to capture the atmosphere and light of the painting location. In her figurative work she tries to get the essence of the person or group of figures while creating a narrative with images.
"I paint to express and depict the beauty and joy I see in everyday life."