Paper ArtMargaret Goodward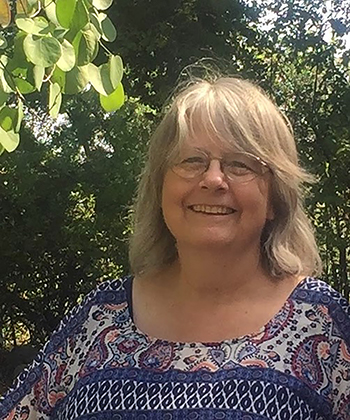 " Her images reflect on natural growth and human growth with artistic interests in positive-negative space, radial forms, and subtle embossed details. "
Margaret was the oldest of seven children whose father thought if you were bored you'd best go find something to do.
She made paper fans, paper kites, paper puppets, and, (surprise!)…..paper!
In college, she did collagraph embossing, mono-printing, and…..papermaking! She is now old enough to use sharp tools to make multilayered paper bas reliefs in bright colors with intricate details. Her images reflect on natural growth and human growth with artistic interests in positive-negative space, radial forms, and subtle embossed details that reward those who come to look up close.
Here are some samples from her Garlands of Quotes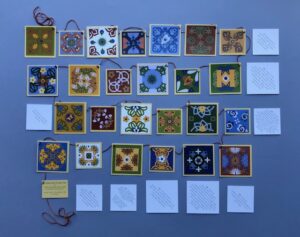 Hope:
"Hope is like a road in the country; there never was a road, but when many people walk on it, the road comes into existence." Lin Yutang
"Hope is a verb with its shirtsleeves up." David Orr
"Challenges and Hard Times will try to ruin your Spaghetti. Just don't give them a fork." Saurabh Gusain
"Listen to the mustn'ts child, listen to the don'ts, listen to the shouldn'ts, the impossibles, the won'ts. Listen to the never haves, then listen close to me…Anything can happen, child. Anything can be."
"Colour is the keyboard, the eyes are the hammers, the soul is the piano with many strings. The artist is the hand that plays. Touching one key or another purposively, to cause vibrations in the soul." Wassily Kandinsky 
"Show your true colors. Mine is yellow." Big Bird (Sesame Street)
"I've been 40 years discovering that the queen of all colors is black." Pierre-Auguste Renoir
"Mauve? Mauve is just pink trying to be purple." James Abbot McNeill Whistler
Children and Parents:
"One curious thing about growing up is that you don't only move forward in time; you move backward  as well, as pieces of your
 parents' and grandparents' lives come to you." Phillip Pullman
"When a child is locked in the bathroom with water
running and he says he's doing nothing, but the dog is
 barking, call 911." Erma Bombeck
"The guys who fear becoming fathers don't understand
that fathering is not something that perfect men do,
but something that perfects the man. The end product of child raising is not the child, but the parent." Frank Pittman
"Little League baseball is a very good thing because it
keeps the parents off the streets." Yogi Berra
Thank You so
much for looking!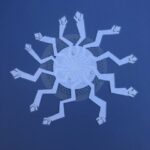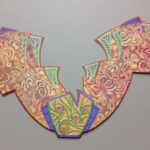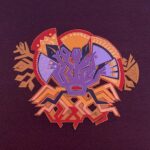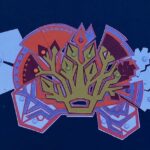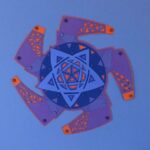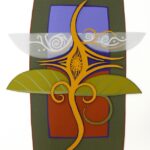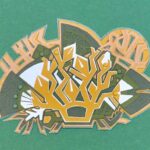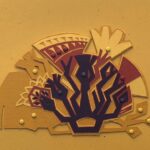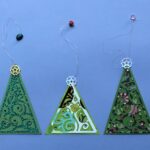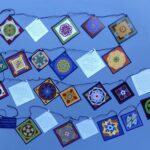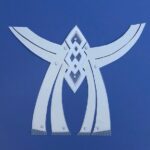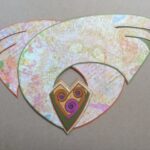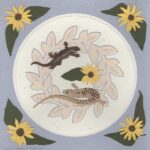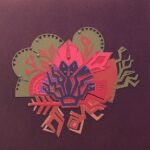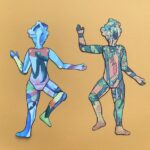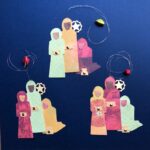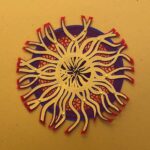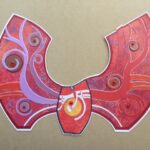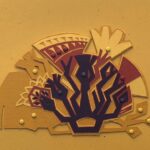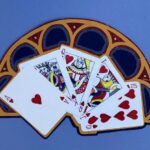 Pricing:
•Larger framed artwork: $185 to $1200
•Smaller unframed artwork: $110
(8 1/2"x11" or smaller)
•Garland of Quotes on Children and Parents $15
•Garland of Quotes on Colors: $15 (placed end to end, this garland forms a wheel based on the Essential Color Wheel and comes with a list of art pieces to look up online for each color scheme)
•Garland of Quotes on Challenges and Hope $15
Creativity kits $13
Hug Book $15
Dog puppet $12
Cat puppet $6.
Artist paper dolls $15
Christmas paper dolls $15
Christmas ornaments $4
(Papers and embellishments used in the above items may vary from what is shown in the pictures)
Contact information:
Phone: (909)783-2417
Email: margaretgoodward@gmail.com